Catholc Hill First Communion (24" X 36")
Click on Picture to Return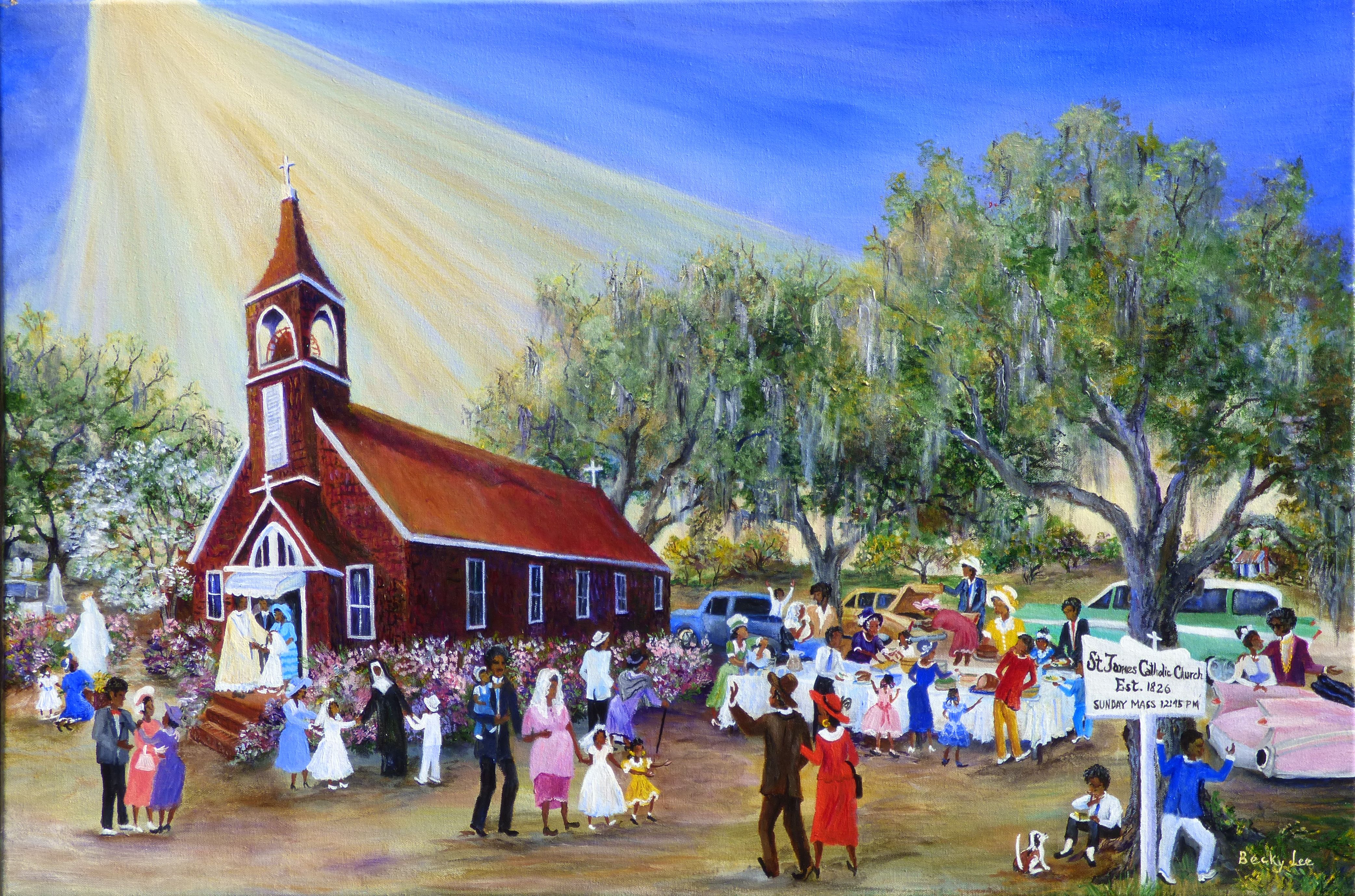 When I seriously began painting in the early 1970's, I ran around with a Polaroid camera making pictures of local things I thought I'd like to paint. The date on my picture of the church at Catholic Hill is 1972. The picture was filed away until I began to re-organize my studio in 2016. I decided I'd make this painting my first one of the year. My picture was small and a little faded, so I drove out to the church for some fresh references.
Since my first photo was made, St. James The Greater Catholic Church at Ritter, S.C. has been registered on The National Register of Historic Places. Religious properties are not usually eligible for the National Register; However, St. James the greater has a rich cultural heritage in the African American community it serves both as a church and an educational institution. It also has a very unique Gothic Revival architectural style with wooden shingles.
The first church on the site was established in 1826 by Irish Catholic Planters and their slaves, one of the earliest rural Catholic Churches in South Carolina. An earlier church burned in 1856. The present church building was constructed in the late 1930's.
I decided against new photographs for my painting. New improvements had added handicapped access and new steps with outdoor carpeting. It simply would not work with my concept of an old fashioned "dinner on the grounds" celebration complete with vintage cars. I went back to my old Polaroid snapshot and spent the entire year "developing my picture" in my brain. That's a good way to describe my works in progress. The church was the foundation for the painting, but then all the little figures I have in the painting came together as I worked.
First communion is such an important event for Catholic families. I made the title "Catholic Hill First Communion" in order to incorporate the family event and the colloquial community reference to the crossroads where the church is located in Ritter, S.C